Welcome to Silkie's Farm!
a sustainable alpaca breeding farm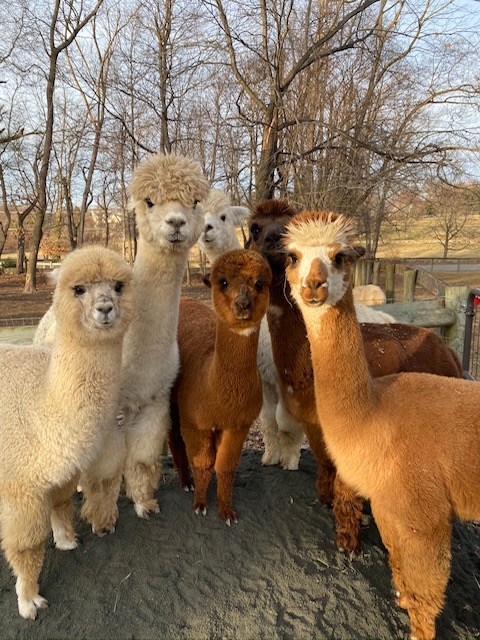 so many fun things coming up!!!!!

Creative Art Classes
Agritours
Workshops
Live Demos
Photo Ops
Wine Tasting
Farm Store Hours
National Alpaca Farm Day
National Alpaca Farm Day is Saturday, September 25th this year.  We want to celebrate this AND our 10 years of being in the alpaca 'business'.  We will be open to the public from 10 to 4.  Our farm store will be open and we will have many items on sale.  It may feel a little warm yet to wear alpaca, but fall comes quickly and you'll be glad you're prepared with warm, soft alpaca items.  Our morning will start with a Hatha-Yoga class – you must be pre-registered for this and space is limited.  Hand-spinning demos, fiber arts, live music, wine tasting, visit with the alpacas…

From Beans to Fleece, not a single drop is wasted.
We are truly a sustainable business! Check out our Farm Store to find luxurious yarn for your next knitting or crocheting project, nutritious Wholly Frijole Eco-Tea for your plants, or the ingenious Dryer Balls – a reusable, organic, chemical free solution to dryer sheets that actually reduce the amount of dryer time by 25%.
Silkie's Farm
Marcia & Al Silkroski
1418 Hilltop Road
Chester Springs, PA 19425
Call Us •
610.608.5337
Herd Mentality
Alpacas thrive when they are in a herd. Purchasing a herd – even a small one – can be expensive. They are a great business  investment if you develop a plan. They can also be a great investment in a lifetime of joy as pets.  No matter what you are hoping to achieve by adding alpacas to your life, we are here to help you figure out the next steps.  We like to work with small farms because we are one. We know what it's like to get your farm set up and bring the animals home. If you are interested in any of our alpacas, we are happy to work with you.  First, have a look at our herd, then let's look at the budget and review your future plans.