Spring Cria 2021 Have Arrived!!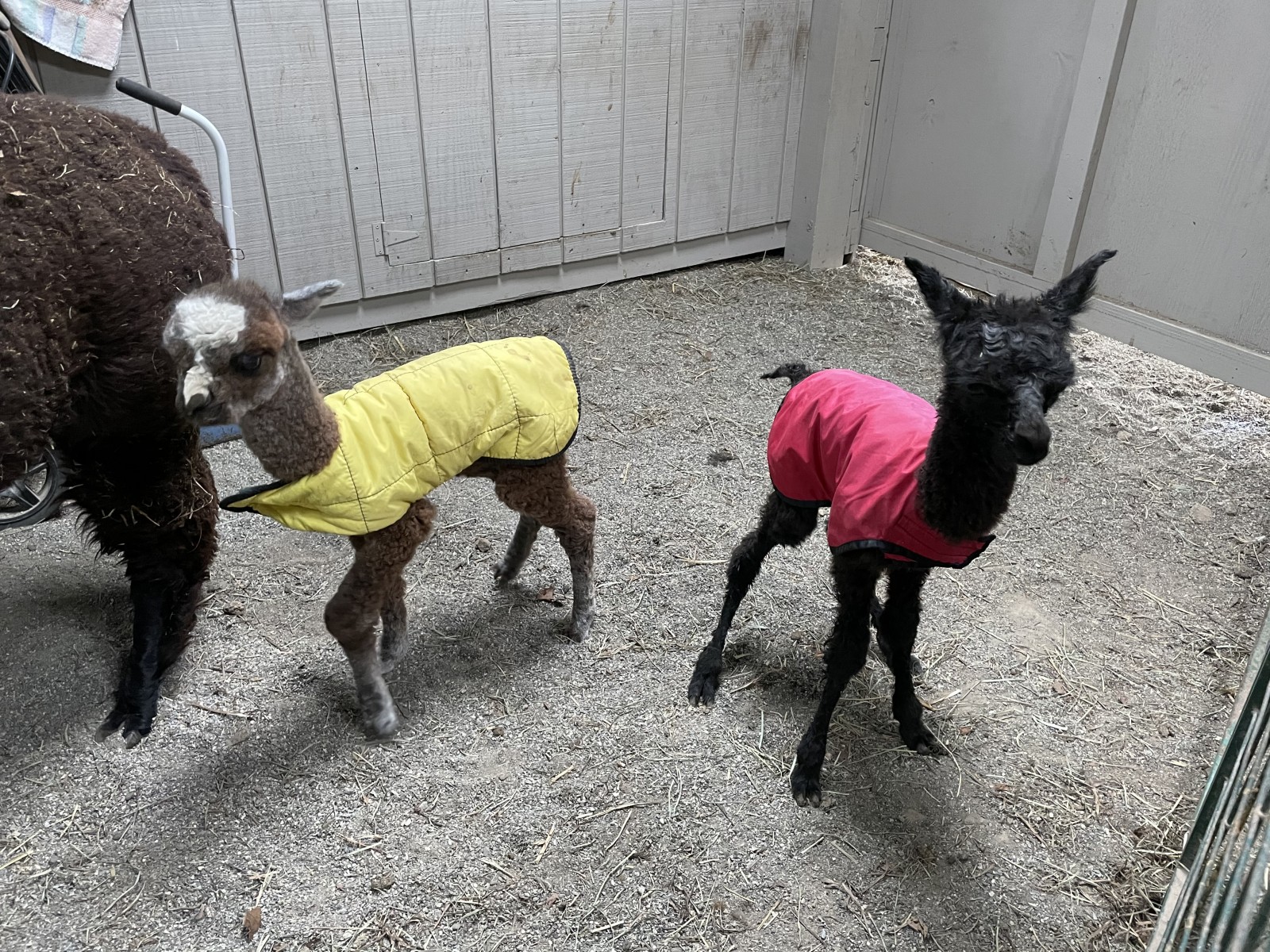 Last year as COVID was closing in I think we got a little anxious to begin breeding. If you recall, the weather was very mild and we didn't breed at all the year before. Fast forward a standard alpaca gestation and here we are with much colder, normal temperatures for this time of year and LOTS of pregnant females.
On March 12th we welcomed Mellowrush. The first born to Psych. She is a loving mama to her gorgeous son. She may have to lock him up because the girls are already going crazy over him. They love the strong, silent type. He is a stunning dark/medium rose grey with a patterned head. I confess I keep him in a yellow cria coat just so I can sing Mellow Yellow to him all day. Quite rightly!
Then there is Ringo Starrcas. Ringo is the third son born to Dear Prudence on March 16th. She has given me only males but all have been 'beautiful, beautiful, beautiful …. beautiful boys'. Ringo is no exception. He is a true black and has long, spindly legs so I expect he'll grow to look a lot like his father Arcas. This guy could win a marathon. He certainly trains enough running circles in the field and leading a daily alpaca parade. I love watching them all pronk and play as the weather is warming up.
Rush and Ringo are heart-stealers and I'm excited to see them grow up together. Our next babies will come soon after shearing. Bossa Nova and Penny Lane are basically ladies in waiting now. This will be a first for Bossa Nova. She is white and bred to Arcas so I'm curious what we'll get there. Got any guesses?? Penny Lane is a proven mom and bred to Renaissance Man. Chances are good we'll get a medium brown cria with some creamy pattern. Ren boasts a bow tie and Penny carries her heart on her gorgeous long neck. Stay tuned for more updates.